This page is dedicated to listing out Excel courses that are available online. I am VERY selective about the courses that I include on this page, and will only publish listings from those who I trust to deliver a great online training experience that will add value to you.
In the interests of full disclosure here, each of these images contains an affiliate link, so I do make a (small) amount of money if you click through and purchase. If you find that offensive, you can always go directly to the site in question and purchase direct.
Courses By Ken Puls (of this very site)
I maintain a list of all of all of my online courses here in one place:
---
Chandoo's Excel School
Chandoo is a fellow Excel MVP who has been at the online training game a long time. He offers a full Excel School online, as well as a dashboarding course and a variety of others. I can guarantee that you'll learn some useful tricks by working through his material.
To learn more or sign up,
just click here
.
---
Excel Campus
Jon Acampora is another fellow Excel MVP and blogger. His site has a great variety of online Excel courses, including ones on VBA, Looikup Formulas, Filters, PivotTables and Dashboards. He also has a number of helpful Excel add-ins.
To check out his site,
just click here
.
---
Excel.TV
This online community created by Rick Grantham and Jordan Goldmeier offer webinars, tutorials, articles, and even full Excel courses to help you improve your skills regardless of your current level of expertise. Jordan is a dashboarding phemon and I highly recommend his
Excel Dashboard Pro
course, as well as the
Building BI with Pivot Tables
and
Error Checking for Excel BI Solutions
courses I created with them.
Check out the
Excel.TV site
for more information.
---
My Excel Online
My friend John Michaloudis has a popular Excel blog and podcast, as well couple of great online courses and a variety of free webinars. His
Xtreme PivotTables course
is worth checking out.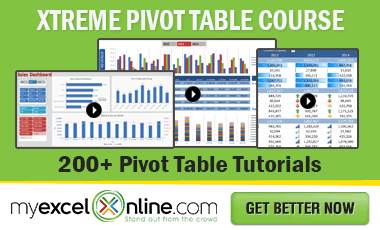 ---
My Online Training Hub
Mynda Treacy is another fellow Excel MVP who has an extensive catalogue of online Excel courses, including ones on Excel skills for finance, customer service and decision making, as well as dashboarding, Power Pivot, PivotTables, Power Query and Power BI.
To learn more or sign up,
just click here
.
If you want to get a sense of Mynda's teaching style, you can also check out her series of three free dashboarding webinars: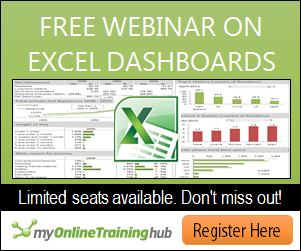 ---